Jobs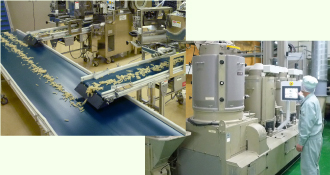 Not only sending the product to our customers, but taking orders and packing boxes too.
It is everyone's job in the whole company to ensure that our customers are satisfied with every way we serve them.
We are looking for partners who will put in their maximum effort daily and work together with us as a team.
New graduates
Recruitment of students graduating from high school or university in 2016 is now closed.
Roles

Quality control: NOTE: University graduates only
Responsible for the safety of all products by carrying out daily radiation level checks、analyzing and checking pesticide residue, verifying the standard of taste through our flavor tests, and checking bacteria levels in our processed foods.




Food production
Working on manufacturing, processing and shipping at the following factories within our compound.




■Rice polishing plant
Processing Akita Komachi into polished or rinse-free rice and shipping to customers.

■Allergy plant
Making long and short pasta at the Gluten-free Pasta (rice noodles) factory using rice flour.
Creating meals for emergency use at the Ready meals factory so that people with allergies can rest assured.

■Germinated brown rice factory
Manufacturing a product with higher nutritional value than regular brown rice that is popular as a staple

■Rice puree factory
Can be used for all kinds of food processing, not just make bread and cakes.
We make a new processed food called rice puree.

■Rice storage warehouse
We manage brown rice strictly so as to maintain the highest possible quality. We also unload the rice that the producers bring to the warehouse.

Basic monthly salary
Graduate school 184,200 yen / University 170,000 yen / 2-year university 157,500 yen / High school 150,000 yen
Place of work
Nishi 4-88,
Ogata-mura,
Minami-Akita-gun,
Akita-ken
010-0942
JAPAN
Working hours
8:30am – 5:30pm
How to apply
High school: Please apply through your school's career counsellor
University: Please apply directly to the address below:
Questions regarding recruitment
General Office / Human Resources
Ogata Village Akitakomachi Rice Producers Co., Ltd.
Nishi 4-88,
Ogata-mura,
Minami-Akita-gun,
Akita-ken
010-0942
JAPAN
TEL: 0185-45-3001 
FAX: 0185-45-2775
email: soumu@akitakomachi.co.jp