Organic rice bran fertilizer
This fertilizer is an organic by-product of the bran fermentation process. It is useful in cultivating a flavorsome, high quality rice crop as it provides rich nutrients to the crop, and makes a fertile soil full of microorganisms.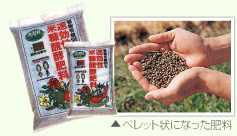 Making the fertilizer

By stirring the rice bran, gradually microbial fungus appears and it ferments. It is then turned into pellets the size of soy beans to make it easier to spread in the rice fields, and bagged at our factory.
Our fertilizer has received full Japanese Agricultural Standard approval from the Japan Organic & Natural Foods Association (JONA) for use in organic agricultural production.