International Standards
ISO 22000 (Food Safety Management)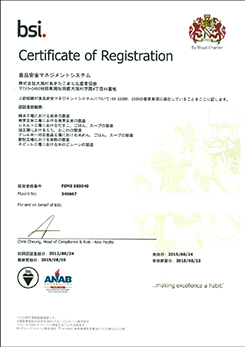 Food safety policy
1

To guarantee safety of our products, we bring peace of mind to the customer by confirming the quality of the fertilizer, by thoroughly checking all goods as we receive them, as well as through production, storage and shipping.

2

We thoroughly observe food safety labels requirements, and all other laws and regulatory requirements governing what our company produces, and through manufacturing and hygiene management conditions so that they are clear to the customer.

3

We will make this policy and all information in full or in part related to hygiene management regarding food safety widely available to the public through reports, contact, notices and education.

4

This policy will be applied in a suitable manner, it will be maintained periodically by checking the text, evaluating the content of activities, and then verified and adjusted accordingly.

5

To ensure food safety, we will communicate internally and externally including information about our customers and the Japanese Ministry of Health, Labour and Welfare.

6

Food safety is the responsibility of all posts and roles in the organization. We will check this regularly. We will make our environmental policy viewable to all.
27 February 2012
Toru Wakui
Representative Director  
Ogata Village Akitakomachi Rice Producers Co., Ltd.
ISO 14001 (Environmental Management)
Environmental policy
1

We ship rice based on our own standards such that we deliver the safest rice of the highest quality.

2

We will take preventative measures not only within our span of operations to curtail damage to the environment through pollution, including water contamination left by firefighters.

3

We will respect the law and ordinances, etc. so that we can run our company in an appropriate and safe manner.

4

We operate in a way to aims for harmony with local people and the environment.

5

So that we can carry out the aforementioned, we will set up an environmental management system. Moreover, in consideration of environmental, economic and technical possibilities, we will be responsible for environmental targets and objectives.

6

Depending on the situation, we will review our environmental targets and objectives, always striving to improve.

7

We will distribute the policy to all staff.

8

We will make the policy viewable to all on our homepage.
We will also educate and train all our staff so that they are highly aware of the environment.
24 December 2002
Toru Wakui
Representative Director 
Ogata Village Akitakomachi Rice Producers Co., Ltd.