Storing and polishing the rice
1.Before storage check up
Before we can put the harvested uncleaned (or unpolished) rice into cold storage, we check its moisture levels. We put it through a sifter to sort the rice by grain size, remove the hull from the grain and check the flavor of the rice.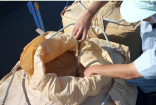 2.Cold storage
The rice is stored in its unpolished form at a constant temperature of about 15 degrees Celsius (59 degrees Fahrenheit). This ensures that the rice keeps its just-harvested freshness for longer, and stops insects and mold from getting to the rice.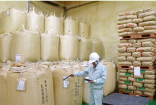 3.Managing rice cleaning
Once delivery dates are decided, we take the unpolished rice and process it into ordinary polished white rice or rinse-free rice. At each stage in the process, we sift the rice to ensure that we remove any foreign bodies, such as stones, glass and pieces of metal.
In the summer months when the difference between the temperatures inside and outside the storage facility is particularly large, to prevent condensation and to get the rice used to the outside temperature, we store it at normal temperature. Then we clean the rice to ensure that we keep the high quality.
Rotary sifter

Pulls out small and broken rice grains at high speed


Magic sorter

Uses compressed air to blow out discolored rice and foreign bodies


Clean separator

Removes metal objects with powerful magnet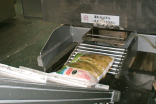 4.Taste and convenience: the best of both worlds
Rinse-free rice: We rinse it so you don't have to. With just a little bit of water, we quickly wash off the little bit of bran that is left on the surface and in the grooves of the rice. And before the water can seep into the rice, we blast it with warm air. All you need to do for a delicious bowl of rice is put it in your rice cooker with water and press the start button.